True Grit Barrel Racing Futurity & Derby
August 24-25, 2019
Carnduff Agricultural Society Arena
Carnduff, Saskatchewan

Minimum $2,000 added Futurity ~ Minimum $1500 added Derby
Minimum $ (TBA) per day added Open

** ENTRY DEADLINE EXTENDED **
for both the Futurity/Derby and the Open/Youth Barrel Race
until August 20th with no late fees.
Entries taken after the 20th will still be subject to the applicable late fee(s).
Entries will still be taken the day of right up until the last horse runs in your chosen event...
however, cash only entries will be accepted in this case.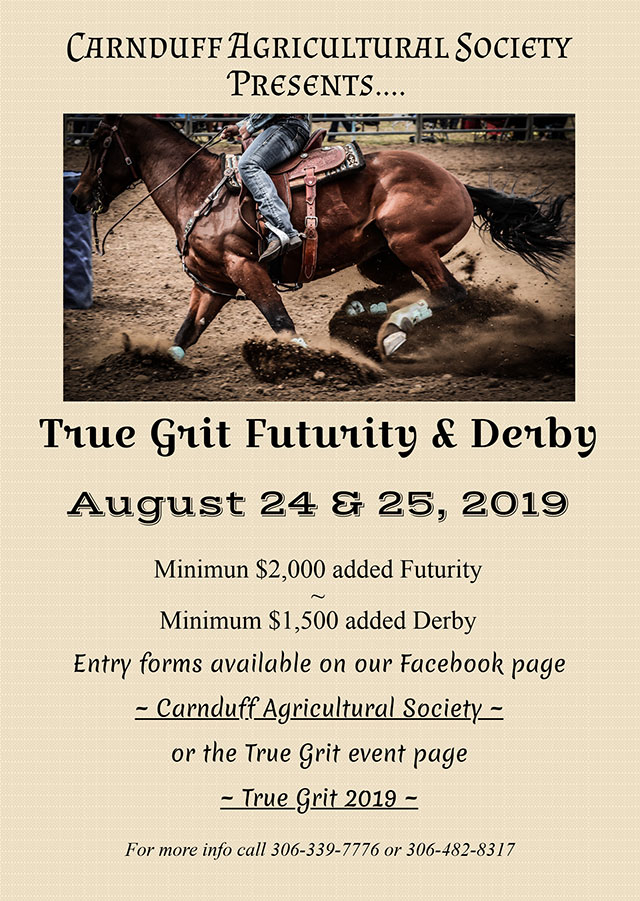 - - - - - - - - - - - - - - - - - - - - - - -


. . . . . . . . . . . . . . . . . . .

For further information, please contact Cory Scott 306-482-8317 or Chelsea Steeves 306-339-7776
Email: truegritcarnduff@gmail.com